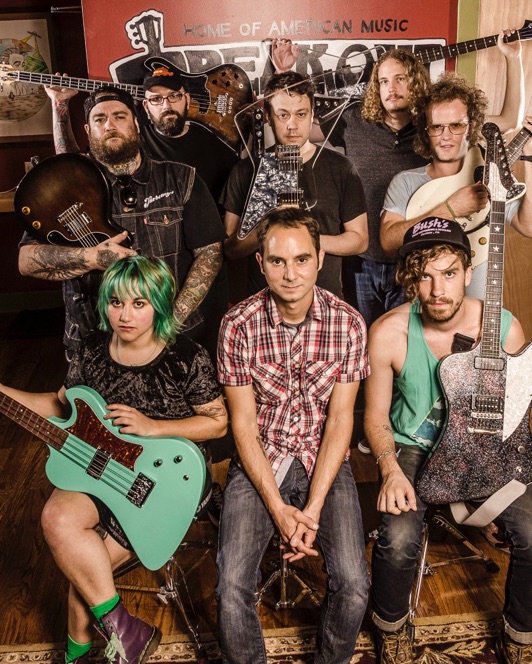 Customers of Scale Model Guitars with founder Dave Johnson (pictured center). Photo by Steve Cross.
Scale Model Guitars founder Dave Johnson was born and raised in Peoria, IL. After receiving his BA in economics from Eastern Illinois University he worked in finance for a brief time before realizing his passion for musical instrument repair and construction. Mostly self-taught from working in various music stores, he eventually managed the repair shop at Avenue N Guitars in the north side of Chicago. In 2009, Dave moved to Nashville and worked in the Gruhn Guitars repair department until early 2014, he currently also works as an in-house repair tech at Carter Vintage Guitars. Highly skilled in vintage repair and with over fifteen years of experience, he is quickly earning a reputation as one of the most trusted names in town.
Dave shares a common philosophy with the most skilled of guitar technicians – learning NEVER stops and anyone who believes they are an "expert" or "master" is likely neither.
Interviews and articles/print media
Guitar Player Magazine, Feb 2013, pg. 30. "Now Hear This"
American Songwriter Magazine, Jan/Feb 2013, pg. 72. "Gruhn Guitars, Nashville's Guitar Nirvana"
American Songwriter Magazine, July/Aug 2012, pg. 42. "Nashville Garage, JEFF the Brotherhood"
Premier Guitar Magazine, Dec 2012, pg. 24. "Opening Notes"
Guitarist Magazine (UK), March 2010, pg. 60. "Revolution Rock"
Technical articles/online media